With my heart breaking, I'm sorry to say that our friend and founder of Terrapin Nation, Chester (Bruce) has passed away. He died at home from natural causes, and was found tonight after the local sheriff department was notified that he wasn't responding to calls or a home visit. Bruce was one of the kindest and most thoughtful people I've ever met. He became my big brother and partner in internet fun from the moment we first "met" on line at the Furthur Forum. He put his heart and soul and resources into making Terrapin Nation a place where a community could feel comfortable talking and bonding and listening to music together. He was always so much fun to hang around with at shows, whether in person or virtually, and he always knew exactly what emoticon and kind word to send when any of his friends needed it. He became much more family than friend to me, and I will always miss his presence in my life. Fare you well, Chester, my dear friend, and rest in peace, even though it feels far too soon to say good bye.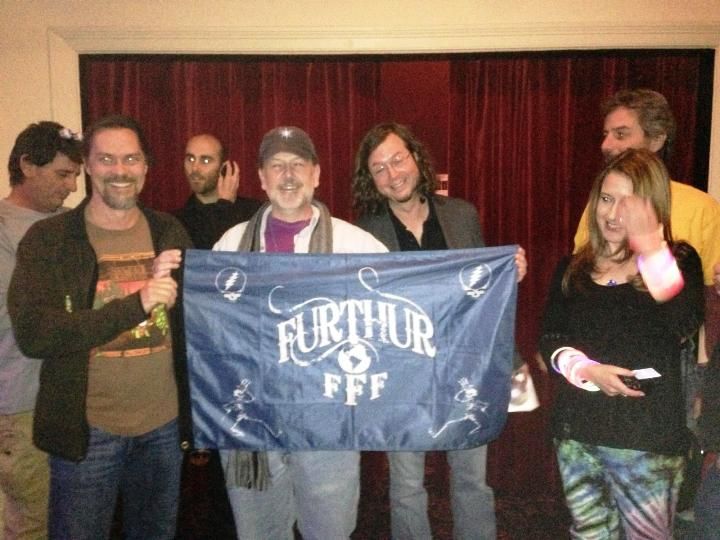 Add- This was Bruce's full eulogy, read at his memorial service 12/19/2015:
FOR BRUCE
Bruce was one of the kindest and most thoughtful people I've ever met. He always knew exactly the right supportive words and emoticons to send when any of his friends needed them, and he was always someone you could trust to have an ear or a hug ready at the right time.
Bruce became my friend and partner in internet fun from the moment we first met via cyberspace at the Furthur Forum, a band fan site. Bruce took me under his wing and taught me all about the social world of the internet, something that was completely new to me. He introduced me to all the live music that could be accessed online, and the wonderful people that listened to that music together. Bruce loved music of all kinds, especially the Grateful Dead and their spin-off musical groups. So it was natural that many of his friendships came from that interest in music. He was an active and much loved and respected member of several online music communities. Bruce and his friends from these groups would meet up at concerts regularly, all over the country. You always knew it was going to be a fun show if Bruce was going to be there. He was one of those people that got along with virtually everyone, and people instinctively just liked him. I feel very lucky to have been able to spend so much time listening to so much good music with him. I'll always treasure the memories of the times spent at concerts with Bruce and our other music buddies, especially two very special concert trips, one to Red Rocks Amphitheater in Colorado and another to the beaches of Mexico. And the best part is, when you went anywhere with Bruce you didn't have to worry about taking pictures, since he was such a superb photographer. It always amazed me at what wonderful pictures he took, whether it was of landscapes or people. He had an eye for good light and beautiful views.
As well as music, Bruce loved nature, whether it was hiking in New Hampshire or feeding the birds in his backyard. He loved all birds, especially his African gray parrot, Shelby. She was his winged companion for many years. Bruce was also involved with the Raptor Resource Project, and their sponsorship of a webcam that gives a live view of a bald eagle's nest in Iowa. I know many of us have spent hours with Bruce watching those eagles, and seeing several years of offspring grow from a just-laid egg to a full grown eagle flying from the nest.
Bruce's interest in music and the internet led him to create what I, with some bias, think is one of his biggest accomplishments, the creation in 2014 of a Grateful Dead fan forum called Terrapin Nation. Bruce put his heart, soul and time into making Terrapin Nation a place where a community with similar interests could feel comfortable talking, bonding and listening to music together. And he was successful in doing just that, the site has been thriving over the past year. I hope that the website and its very close community will be a lasting legacy to Bruce. I speak for all of his friends there in giving our sincerest condolences to Bruce's family, as well as our gratitude to them for giving us so much help and time in the last few days to make sure we had the information we needed to keep the site running. I know the family's active support for his big project, especially at such a difficult time, would have meant a great deal to Bruce as well.
It's almost impossible for me to comprehend that Bruce is gone, as I'm sure it is for all of you too. I know Bruce loved his family and friends deeply. I like to think that he's been feeling all the love that's been expressed towards him over the last few days. Though to be honest, if he's looking down on us now, while he would certainly appreciate all the caring, what he'd really be thinking about is missing out on picking apart the new Star Wars movie. To him, that's probably the biggest tragedy in all of this!
To wrap up, please let me say that I was blessed to have Bruce as my dear friend. I loved him and will miss his presence in my life more than words can tell. Fare you well, Bruce, it feels far too soon to say good bye!