Posts: 4427
Joined: Wed Nov 05, 2014 1:12 pm
Location: San Diego, CA
thanks Sue! have a grate night everyone!

see you tomorrow
DeadCo 6/3-4 Hollywood Bowl
DeadCo 6/14-15 Wrigley
---
Posts: 2416
Joined: Tue Nov 04, 2014 1:07 pm
Location: City of Blues
I thought it was a good show however I was really waiting for a Pigpen tune!!!
Sometimes the songs that we hear are just songs of our own
---
Posts: 995
Joined: Wed Nov 05, 2014 8:32 pm
Contact:
Well last night was pretty darn fun. Not a lot of hippies but the Texans sure are lovely people. Kind with big hearts.
1st set was a swaying kind of set. EL Paso the highlight for me. Now fwiw, easy answers killed the mo. No One knew the song and the band didn't or couldn't follow Bob. It was awkward. Just saying not complaining
2nd set never let up. Awesome the whole way. Highlight for was Dear Prudence. Let me see you smile again. Wow. Reminds me of my mom.
But best part was the mirror ball. Omg it made me feel like I was flying in circles across the venue during eyes of the world. Damn I was high. Lol.
2nd best part, Bob jumping with John during the end build up of Casy Jones. Look at the 71 year old motherfucker go. Wow.
---
Posts: 19474
Joined: Tue Feb 11, 2014 10:55 pm
Location: Midwest
Looks like it was supposed to be an Estimated>Eyes, but that Eyes was stellar enough to make up for it!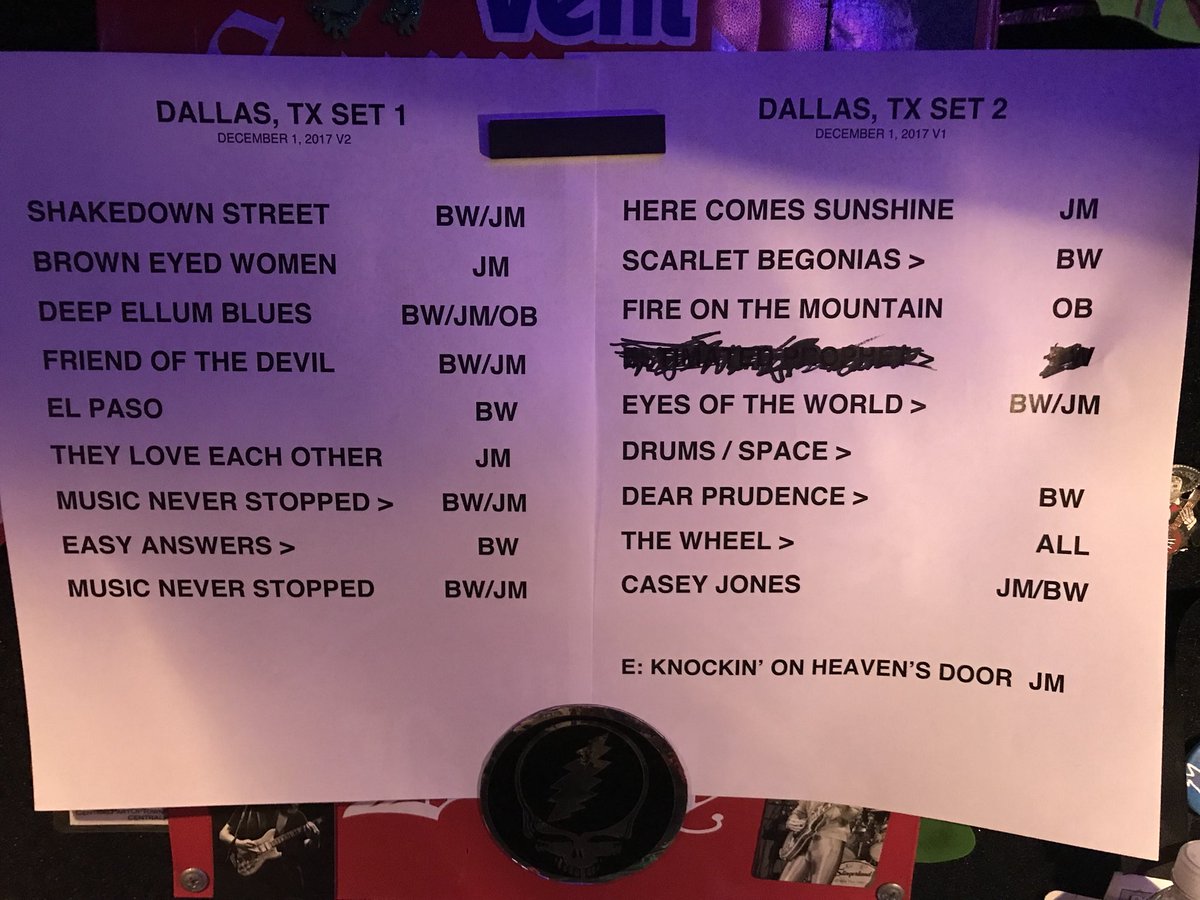 ---
Posts: 136
Joined: Wed May 02, 2018 2:13 pm
Location: Oregon
Super random: anyone looking for the official poster for this show?
For whatever weird reason, there was a booth in Boulder that had this poster for sale along with the Boulder poster. I saw it and thought it was awesome so I bought it. Note to self: don't go buying merch
after
an awesome show like Night 2 of Boulder. I didn't realize it was a poster for another show, from another tour, in another state.
Anyhow, if anyone is looking for it, let me know.
https://i.redd.it/002bdhkicc101.jpg
Listen to the river sing sweet songs, to rock my soul.
---